Products
Jaguar Programs, Financial and Mobile Products

JaguarEditControl
In conventional login forms the user inputs (username, password) his/her information on the HTML form which can easily be logged by Key Logging programs. However, the JaguarEditControl can be used in the HTML forms, instead of normal password inputbox, to secure the personal information and login data. The difference is created by JaguarEdit which generates Key Jamming for key loggers when the user presses a key and produces hundreds of undecipherable keystroke messages to the hacker's logging programs and blocks windows hooks to prevent activity motion recorder. In addition to this feature, the key logger is blocked by Clipboard Copy/Paste and GETTEXT properties of JaguarControls that builds armor for the textbox which becomes invulnerable to external hacker attempts.

The JaguarControls are smaller than 40K which allows them to be simply installed for any application on the Internet. Furthermore, the ActiveX version is not only used on WEB but also is used on all kinds of windows applications such as Secure Logon. As a result, JaguarControls is the only ActiveX solution in the World that has a wide range of implacability to prevent spy programs and key logging activities.

Microsoft Verified For Windows Server/Windows Client

JaguarI4FDControl
(Eye For Fraud Detection) feature collects the unique Token information on Logon Session . This token includes machine specific data like PC Name, UserName, PC MAC adress & Local IP address, Default Gateway MAC address & IP etc. This Token is post with Logon information and parsed on Server Site. It's analized with DataBase info, collected from user's previous safe logon information. Finally Fraud Detection Server returns a percentage ratio to identify Fraud level like %95 FRAUD etc. With this ratio, On-line Banking Logon Server may decide for Logon to the session or prohibit, or decrease the Transection limits.


Normally most of the commercial/personel on-line banking users are logon from their office/home. By using Default G/W MAC address, users location can also be identified. For example, if a user which is captured password and Laptop/PC, can be detected as FRAUD because G/W MAC does not match. The Bank can define different rules by analizing Customer Logon Info DB activities.

Microsoft Verified For Windows Server/Windows Client

JaguarOTP
By using this mobile technology, we create a JaguarOTP one-time password generation JAVA application to generate OTP' s , specifically for on-line banking and all other security sensitive applications. The application can be created for each end-user with his/her own unique signature and sent to the user' s number via SMS to install.


This application reduces security risks to minimum on critical applications, such as on-line banking. Because every password is used only once, there is no theft risk associated with logging with malicious programs. Losing the mobile phone also does not create a risk, because the application on the Mobile Phone is protected by personal PIN/Password. This application works on hundreds of different phone models in the market and does not require any customization.


Features:
· Standart RSA Algorithms
· Signed for Each User
· MSISDN Check & PIN/Password Protection
· Time-Based, Sequencial or Challenge/Response
· Download via SMS (Send link to Download)
· Small size ~18K
· Easy BackOffice Integration


JaguarPasswordChanger
Solution easily creates, encrypts and changes the passwords for the Windows clients.

It uses BLOWFISH strong encryption for Network communications. It is very useful for the companies who has large number of servers. All the passwords (for example, local admin ) can be changed periodically with the rules defined by Security Department.

Solution consist of 5 component:
· Security Server
· Digital Vallet
· Special Groups
· Password Changer Service
· Password Query Tool
· Alerter Server
· Admin Console
· USB Token Support for Query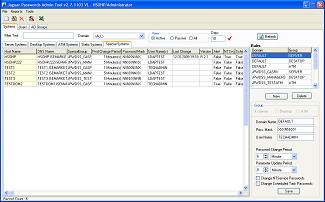 JaguarDeviceLock
It's a very useful tool for IT management/Security Departmans to control the usage of PC I/O's. It prevents data leaks and unautharized Network access by setting user-by-user (or group) I/O access rights on Local Computer or Domain accounts. JaguarDeviceLock gives network administrators control over which users can access what devices (floppies, serial and parallel ports, DVD-ROMs, CD-ROMs, ZIPs, USB, FireWire, Infrared, WiFi, Bluetooth, etc.) on a local computer.

Once JaguarDeviceLock is installed, administrators can control access to floppies, CD-ROMs or any other device, depending on the time of day and day of the week. JaguarDeviceLock enhances access control for Windows System Administrators and helps control removable disk usage. It can protect network and local computers against viruses, trojans and other malicious programs often injected from removable disks.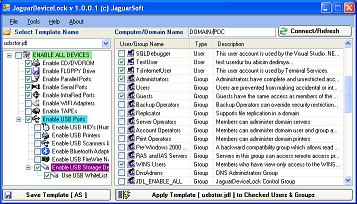 JaguarForensics Toolkit
It's a very useful tool for IT management/Security Departmans to inspect the victim/suspect machines.

Easly creates detailed Forensics HTML Reports, By anaylsing well-known BHO & Toolbars. And also Detect Rootkits & API Hooks , Hidden Processes and Hidden drivers. It checks all network usage & Shares, Verifies Digital Signatures.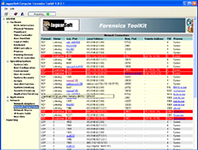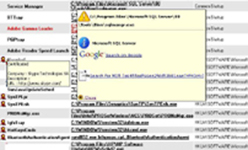 JaguarSMPP SMS GateWay (2-Way)
Two Way is a combined inbound and outbound SMS gateway which allows applications to communicate with the GSM/SMS network using very easy integration mechanism. Directly connected to SMSC Server with SMPP 3.X protocol to send & receive SMS messages. With Customer defined Actions can be easily integrated to any Backoffice system via Database connection, StoredProcedures, HTTP, XM Web services. Automatically responds to incoming SMS via DB Tables and XML Web Services.

Furthermore, the JaguarSMPP software uses an open specification 'queue' mechanism to allow inbound messages to pass in or out via e-mail, web or custom application interfaces, depending on the organisation's individual requirements.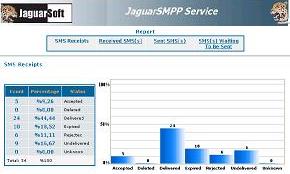 IPVRS (IP Voice Recording Solution)
It's designed to work on all VoIP architecture. With the IP VRS, enterprises are able to communicate via IP phone safely, record conversations real-time, and review them at a later time.

With IP VRS, the main focus is to meet the entrepreneurial requirements of today's competitive financial enterprises, call/communication centers and service companies within their sectors using IP infrastructure. The system can be integrated with the Cisco Call Manager, allowing the system to record calls along with miscellaneous information such as the Calling ID, or the Called Part, which in turn, allows the user to speed-sort calls according to different criteria.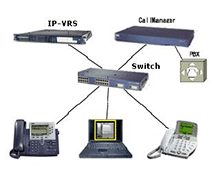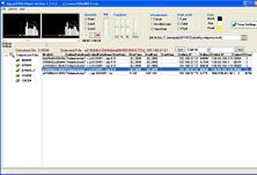 JaguarCRS Camera Recording System
It works with all Camera connected to Windows PC. With strong Motion detection faciltyt you can capture the pictures to the PC HD in desired periods and with easy Web Interface you can access to the pictures.

· Windows NT/2000/XP
· It can work all web cam models
· Easy user interface
· Changeable picture period
· Three different size picture
. Small (160 X 120)
. Medium (320 X 240)
. Large (640 X 480)
. Motion Detection
. ATM Monitoring Integration
· Web user interface HTTP/FTP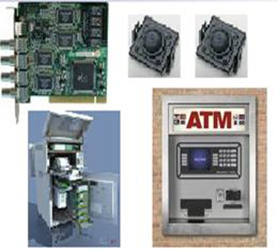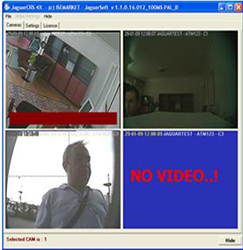 Mobile Products
· MS PocketPC .NET Application
· Streaming Real-time TCP Connection
· LAN/WAN/WLAN/GPRS
· Fully Customized Real-time Portfolio
· Highly Compressed feed/Low Bandwidth
· Compatible with ISEMARKET MobilePushServer and MobileMulticastServer
· Easily integrated to any Market Feed
· Integration to Customer Order Routing Systems
· User Defined Alerts and User Authentication
· Real-time Charts & FullQuote
· News Headlines